About Us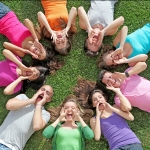 What Is Rainbow Soul Vibrations?

Rainbow Soul Vibrations Inc. is an educational and training organization providing training in Expressive Arts facilitation. Our mission is to provide quality education and training to professionals seeking to develop skills in the use of Expressive Arts to treat clients in their therapeutic practice, as well as non-professionals seeking to use the expressive arts approach as a healing tool or preventative measure.

Our company was founded by Lillian Moss, the executive director. While researching various career counseling themes, to present to one of her high school guidance classes, she came across an article on The Seven Laws of Success. Becoming particularly taken with the information that she gained concerning the Law of Vibration, the third law of success, she decided to do more extensive research in the area. During her studies at the European Graduate School, in Saas-Fee, Switzerland, where she was studying Expressive Arts Therapy, they spoke, a great deal, about the senses, and the soul (psyche). She began to consider the connection between the vibrations of the soul or psyche, and the role of expressive arts in the transformation process. After having taught and trained many counseling students, over the course of her 33 years as a professional counselor, she decide to start a company to train students in the Expressive Arts approach. In considering a name for the company, she considered that since thoughts and emotions are vibrations emanating from the soul, they could be considered soul vibrations. Then, too, these soul vibrations are not one dimensional, unilateral or stagnant. Soul Vibrations, like the rainbow have many colors, many levels, and many dimensions within their essence. Thus, she considers them to be rainbow soul vibrations.